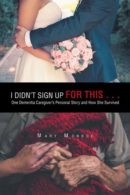 I Didn't Sign Up For This …
One Dementia Caregiver's Personal Story and How She Survived
Brutally honest about her feelings when life dealt her husband the greatest setback one can imagine—a diagnosis of Lewy body dementia and Alzheimer's—Mary Monroe lamented, "I didn't sign up for this!" All her dreams of living her "golden years" with her husband of forty years disappeared, and a new "normal" had to be established. After living in a caregiving role for over six years, Monroe shares the lessons and tips she learned to survive—and even thrive—as a caregiver to a loved one with dementia. You'll enjoy the frank and revealing way Monroe looks at every aspect of being a caregiver, even approaching "taboo topics," rarely discussed. Her tips, tricks, and strategies will give you hope and encouragement to reflect and journal about your own journey, helping you make the best out of a situation no one would wish on their worst enemy!
Price: Softcover $10.99   E-Book $4.99       Also available on Amazon.com and Barnes and Noble.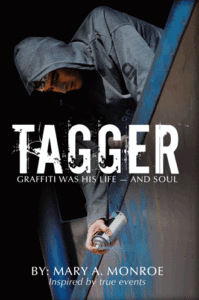 Tagger
"Hey, Bro – wake up! Class is over. We're gonna be late."
"Huh?"
"Yeah, you got Ms. Taylor really angry. She put the timer next to your ear and you still didn't wake up!"
My eyes were beginning to focus now. I wiped some drool off my mouth. My friend, Roberto, was talking a mile a minute, his silver chains swaying to his movements.
"You mean Testy Taylor tried to wake me up and couldn't? Man, that's lame."
"The whole class was cracking up. That alarm buzzed right in your face and you didn't even move. You were breathing heavy, like you was snoring, and your face was resting on your forearm and your lip was all pushed up like a duck."
"Why didn't you shake me or something?" I asked him, as we walked to our next class at Sunrise High School in Fort Lauderdale, Florida.
"I couldn't – I was on the other side of the room. Marisol tried to say something to you, but nothing helped," he laughed. "I have to admit, it was funny, watching Ms. T getting more and more angry and you just sleeping away like a baby."
Price: Softcover $14.99   Hardcover $18.99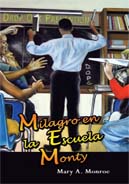 Miracle at Monty Middle School
Marvin begins his first day of eighth grade feeling like a loser — fat and depressed. After all, he wasn't the smartest kid there ever was, and even his school – Monty Middle – tried to hide him, with 11 other "nobodies", in Room 122 in the back of the school in a special "Drop Out Prevention" D.O.P. class.
But then "miracles" begin to happen the day Mr. Martin, a charismatic African-American writer turned teacher, walks into his class. He's a teacher like no other, who helps Marvin, along with pals Markus, Quinesha, Roberto, Luis, Danielle, and others from the culturally-diverse class believe in themselves, and together they create miracles.
Do you believe in miracles? You will, after reading Miracle at Monty Middle School.
Perfect for middle and high school classrooms: "My students and I really enjoyed Miracle at Monty Middle School. It is an inspiring book taking a bunch of kids who think they are nobodies and turning them into kids who believed in themselves." S. B., Middle School Language Arts Teacher, West Palm Beach, Florida
"This is what we live and relate to every day, Mon. through Fri. The book takes you through the reality of being a middle school teacher. Unless you've been there, you wouldn't really know what goes on behind closed doors. It's a great book. I think students would enjoy reading this book instead of the textbooks we have now." A. S., Middle School Language Arts Teacher, West Palm Beach, Florida
Price: Paperback $11.25  
Krazy White Girl
Fourteen-year-old Nicole Adams of South Florida awakes from a coma and finds her life changed forever. She has to testify at the trial of her mom's boyfriend, Ricaldo, who brutally beat her upon discovering her shameful secret – cutting.
After moving in to live with her Aunt Lori and cousin Johnny in New York, Nicole becomes "Niki", and encounters friends like Blondie and Lo, and a new crush, Blake, who help her face her deepest fears. Through teachers Ms. Parker and her P.O.W.E.R. group and Ms. Gonzalez and her Poetry Slam Club, Niki is beginning to heal – until Ashley Williams publicly humiliates Niki, tailspinning her lower than ever.
Krazy White Girl is Nicole's story, including her battle with cutting – up front, personal, gripping.