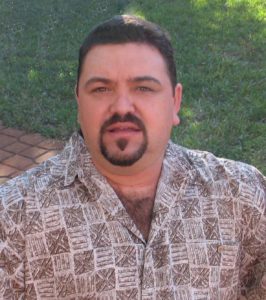 Sobre el Traductor
Miguel Angel Morales Cruz Ilego a los Estados Unidos en diciembre del 2001 y desde entonces se dedica a ensenar ingles a los estudiantes de kindergarten y primer grado en una de nuestras escuelas publicas. Graduado como Licenciado en Lengua Inglesa en 1991, se desempeno
como maestro de dicho idioma durante ocho anos en la isla de Cuba. Posteriormente trabajo como asesor literario del Centro Provincial de la Cultura Comunitaria y publico tres libros de literature para ninos y jovenes; El Libro de las Preguntas, gran premio Vitral en poesia para ninos y jovenes (decima) en 1999, Luces de la noche, asombros del dia, premio Vitral 2000 en literatura infantil; y Pequenas Historias del Patio, gran premio Dulce Maria Loynaz en el genero de narrativa (cuentos) para ninos y jovenes en el ano 2000. Granador del concurso de poesia de la revista El Alma Hispana, se encuentra actualmente traduciendo varias de sus obras al idioma ingles. Miguel Angel reside en West Palm Beach junto a sus padres.
About the Translator
Miguel Angel Morales Cruz arrived in the United States in December 2001 and ever since that time, he has worked as a teacher for ESOL Kindergarten and First Grade students in one of our public schools. He graduated with a Bachelors Degree in Science and Teaching English as a Second Language in 1991, and has worked as an ESOL teacher for over 8 years in his homeland, Cuba. Afterwards, he worked as a Literature Advisor at the Community Culture Center in his province, and published three books on Children's Literature, including The Book of Questions, First prize on the Vitral Literature Contest of poetry for children and youngsters in 1999; Lights of the Night, Miracles of Day, also First Prize of the Vitral contest in children's literature in 2000, and Little Tales from my Backyard, Great Prize of the Dulce Maria Loynaz International Literature Contest in the area of narrative (short stories) for children
and youngsters, also in 2000. Winner of the local poetry contest of the "El Alma Hispana" Miguel is currently working on the translation of several of his books into English. Miguel Angel lives in West Palm Beach.